The Roebuck Inn in Mobberley, has donated £1,000 to the local village church after being shortlisted in the Community Hero category at the 2021/22 Great British Pub Awards.
The funding has come from category sponsor Coca-Cola, which has given money to all six shortlisted pubs, to help them continue with the community work that got them to the final.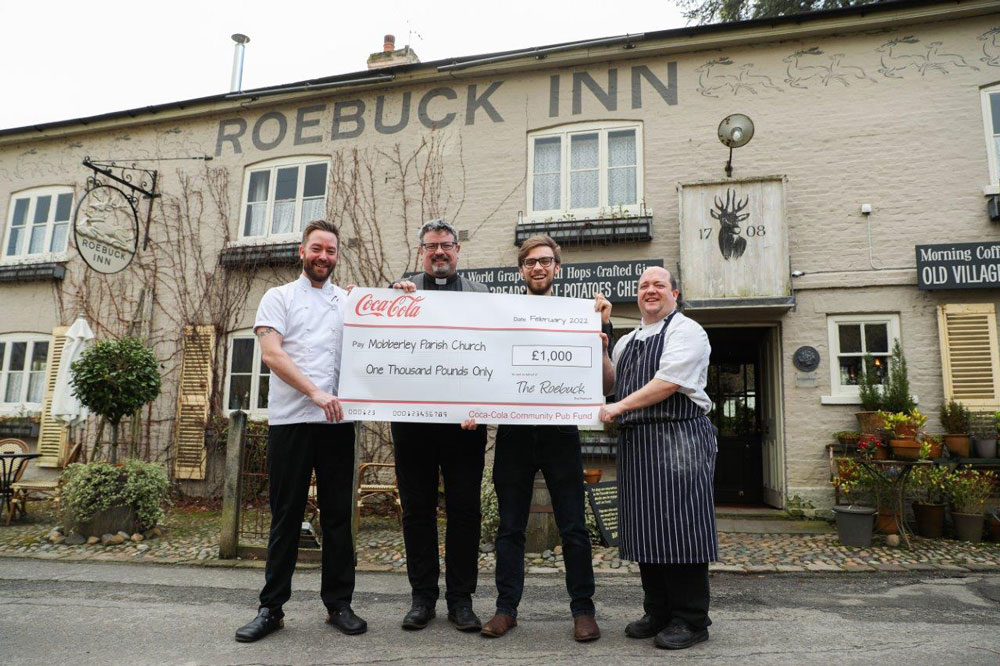 When the coronavirus pandemic hit, Roebuck Inn owners Tim Bird and his wife and business partner Mary McLaughlin, wanted to help their local community, so they set up the Mobberley Pub Hub, with two team members, to provide a safe haven where people could come and collect takeaway food and much more.
The service was extremely popular and grew from grocery boxes and freshly prepared meals to heat at home, to a 'shrub hub' selling plants and the creation of a 'Hub' shop, that featured local produce and wine, which still exists today.
Now restrictions have eased, the Roebuck Inn team are looking for new ways to keep helping the community. Attention has turned to Mobberley Parish Church, St. Wilfrid's, which has also played a crucial role in keeping people connected throughout the pandemic.
In 2021 the church purchased a property in the village centre to provide a safe space for local people to come together. The property, now called The Beacon, recently opened to the public.
There are plans to install a community café and run a parents and tots group, a dementia choir, a homework club, a men's mental health group and a youth drop-in facility.
Tim Bird, Co-Owner of The Roebuck Inn commented: "We are immensely grateful for the recognition we have received through the Great British Pub Awards and from Coca-Cola. Our team work tirelessly for the good of the Roebuck and our local community, and we could not be prouder of them.
"The donation from Coca-Cola will go to our beloved Mobberley Parish Church and its Reverend, Ian Blay. The church plays a big part in our community, and we are pleased that the donation will be able to support the new Beacon facility."
Holly Firmin, Senior Community Partnerships Manager at Coca-Cola added: "It's been so inspiring to see how pubs and their customers have stepped up to support local people during the pandemic – despite many facing real challenges themselves.
"We're thrilled to be able to help the team at The Roebuck Inn continue their support for people of Mobberley. Funding this donation is our way of saying a huge well done and thank you!"